Dear Readers! Everything is an evidence of the existence of Allah Almighty around universe. Allah Almighty is everywhere and there is no any particular place and time is mentioned for prayers. Allah listens his creation every time. He is the all-knowing, all-aware, a listener, and to see everyone but he has prioritized few moments to others, and through his special creation made aware to his people of secret things, same as with some calculations has set the time for amaal and supplications that at what time and which month the amal should be performed or which looh or naqsh should be prepared. For every amal only one should be kept In your mind that every help is from Allah Almighty, whatever you do just have faith upon Allah completely, I assure you that your every problem will be solved. Dear readers as you that I present a new amal every year in your service. The amal I am presenting today that is a necessity for almost 60 percent families in our society. Through this amal every woman can conquer her husband and every man can conquer his wife. In some families, we see that despite of being highly qualified spouses quarreled. There can be two types of reasons that might you get high education but you could not become an anthropologist so that you are not able to understand and respect each other. Sometimes it also happens that the husbands has very good plans but the wife goes against of his planning. These catastrophic situations occur there where husband wife don't think that the journey of life they started together this is based on prolonged time period. Dear Readers you can make your life better by performing this amal.
For example, Arshad bint Nishaat want to conquer her husband. So she should find the lunar numbers of her name along with her mother's name. Those are 865 now subtract 41 from them the answer is 824 so the alphabet of four is (daal د), the alphabet of 20 is (kaaf ک) the alphabet of 8 is (zuaad ض). Now merge all the three alphabets and add al next to that (ایل) so it became (Dakfayal دکفایل). That became a written patron of your name. You will mentioned below the naqsh after preparing naqsh. Oh Dakfayal make the husband of irshad bint Nishaat kind hearted. Now find the lunar numbers of your husband along with his mother's name and add the number of verse in that
Numbers of name of husband = 1134
Number of verse = 3800
4930-30 = 4904
4904/4=1226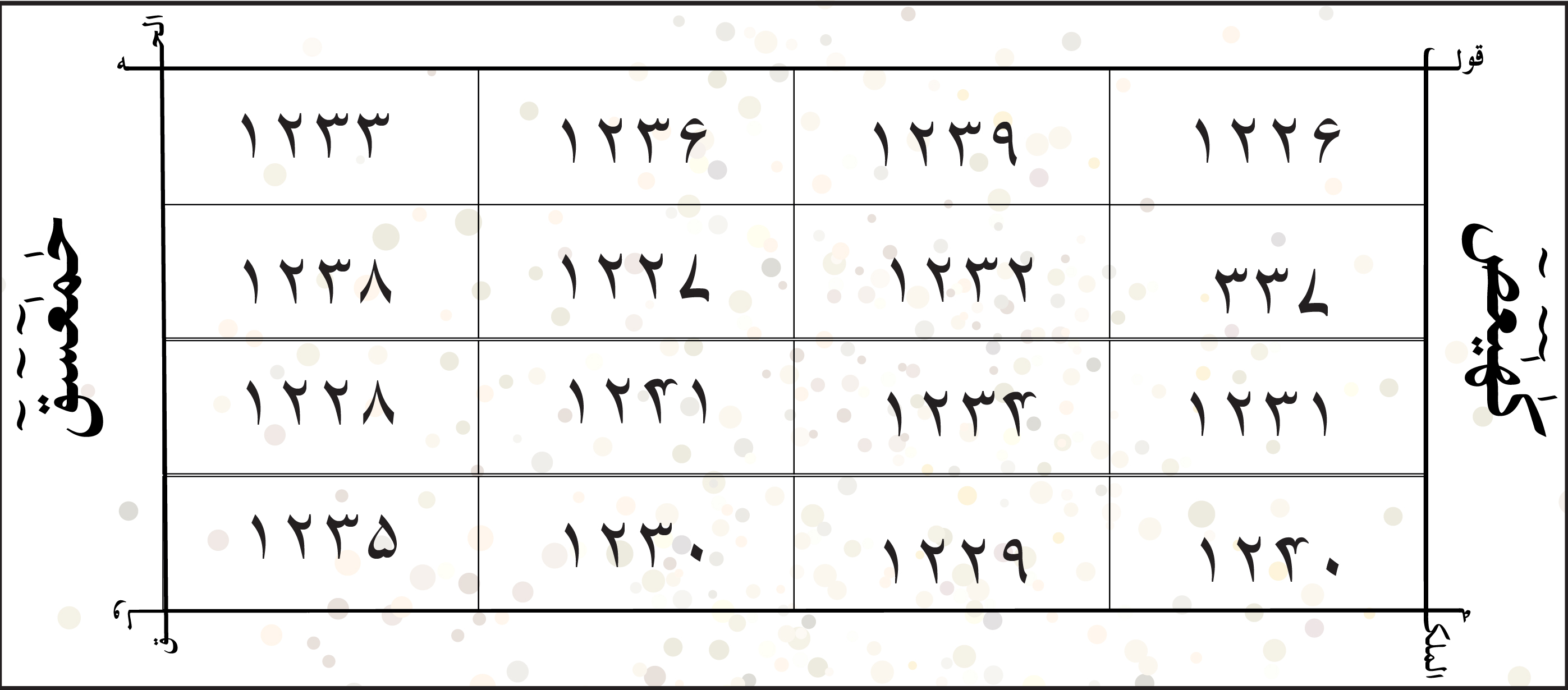 After division if left 1 then add 1 in thirteenth cell, if 2 then in cell no 9 add one, if 3 then in cell no 5 add 1.
Same as every husband or wife can prepare naqsh for their husbands and wives. Prepare three naqsh. One should be wear around your neck after wrapping in a white fabric, second you will hang in your room after getting it framed, and third you will put in your pillow. The suitable time for the preparation of naqsh is peak of Venus, and honor of Venus on first Friday of Islamic month after offering fajar prayers. During amal turn on the incense of Sandalwood. Before writing recite Darood 313 times. Wear white dress, write with saffron and rose water on a white paper now it's up to you whether to write on paper or silver.
Note: If wife prepares naqsh for her husband so she should take the number of verse 3800, and if husband prepare naqsh for his wife so he will take 2124 number of verse. If have described everything but if you find any ambiguity you can contact us.
For more articles, keep visiting our website.